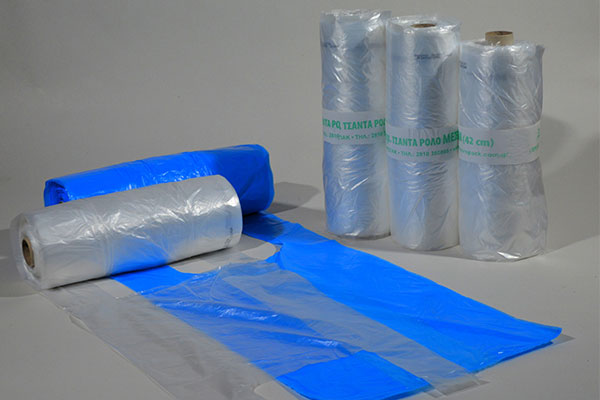 T-SHIRT BAGS IN ROLL
T-shirt bags in roll suitable for contact with food in transparent and blue color. The thickness of the bag is less than 15μm which introduces it in the category of very thin handbags according to the classification of JMD 2812 / 10-08-17.
Due to the suitability for contact with food, it is ideal for packaging and transporting unpackaged food, fruit and vegetables. At the same time, due to their high strength and low roll volume, they can also be used at shops' cash desks.
The choice of the reinforced bag, with a thickness of more than 15μm, is also available for applications that require even greater durability.
| CODE | DESCRIPTION | PACKAGING |
| --- | --- | --- |
| 10100 | T-shirt bag – Height 55cm (Large) | 12 rolls x 200 pcs |
| 10110 | T-shirt bag – Height 47cm (Medium) | 15 rolls x 200 pcs |
| 10120 | T-shirt bag – Height 42cm (Small) | 15 rolls x 200 pcs |
| 10100-1 | T-shirt bag – Height 55cm (Large) Blue | 12 rolls x 200 pcs |
| 10110-1 | T-shirt bag – Height 47cm (Medium) Blue | 15 rolls x 200 pcs |
| 10120-1 | T-shirt bag – Height 42cm (Small) Blue | 15 rolls x 200 pcs |
| 10150 | Reinforced T-shirt bag – Height 55cm (Large) | 12 rolls x 135 pcs |
| 10155 | Reinforced T-shirt bag – Height 47cm (Medium) | 15 rolls x 150 pcs |