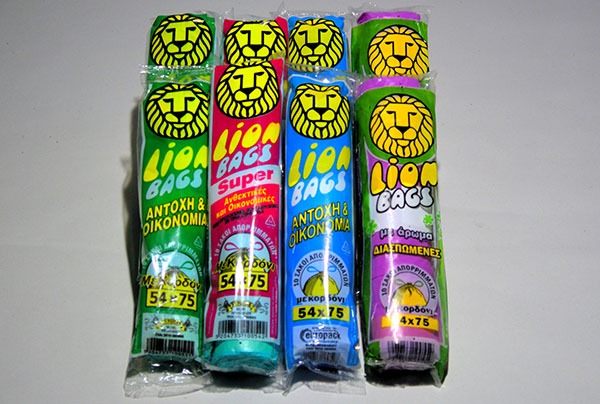 GARBAGE BAGS IN ROLL
FOR DOMESTIC USE
Waste bags with drawstring in roll suitable for use at home. The small thickness gives flexibility in use and storage, while the excellent quality of materials ensures high durability in everyday use.
Available in green and blue colors. For a more ecological option, a vanilla-scented, oxo-biodegradable bag in violet color is also available.
For use in WC or small baskets, there is a 50x50 dimension in white with 20 pieces per roll for easy home use.
| CODE | DESCRIPTION | PACKAGING |
| --- | --- | --- |
| 10052 | Απορριμμάτων Με Κορδόνι 54 x 75 Μπλε | 30 rolls x 10 pcs |
| 10054 | Απορριμμάτων Με Κορδόνι 54 x 75 Πράσινο | 30 rolls x 10 pcs |
| 10055 | Απορριμμάτων Με Κορδόνι 54 x 75 Βιολέ/Άρωμα | 30 rolls x 10 pcs |
| 10203 | Απορριμμάτων Γραφείου 50 x 50 | 60 rolls x 20 pcs |