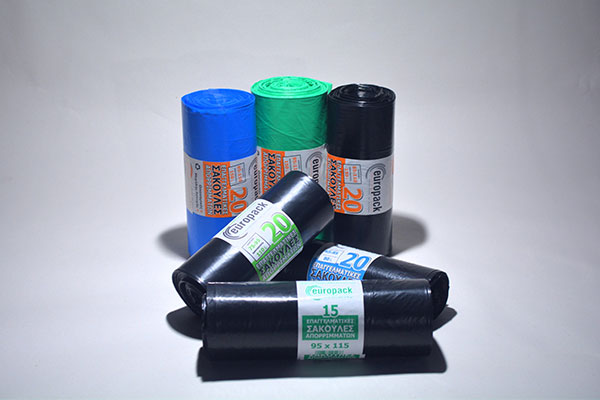 GARBAGE BAGS IN ROLL
FOR HEAVY PROFFESSIONAL USE
Garbage bags suitable for any heavy professional use. The small thickness gives flexibility in use and storage, while the excellent quality of materials ensures high resistance to everyday use in a business.
Available in four dimensions in black color. In the 85 x 110 dimension, there are 2 more colors available, green and blue.
The EXTRA series is a more economical alternative for the professional who wants EXTRA economy but also EXTRA resistance and EXTRA quality.
| CODE | DESCRIPTION | PACKAGING |
| --- | --- | --- |
| 10555 | Professional Garbage bags 65 x 85 | 18 rolls x 20 pcs |
| 10552 | Professional Garbage bags 75 x 95 | 12 rolls x 20 pcs |
| 10550-1 | Professional Garbage bags 85x110 Green | 10 rolls x 20 pcs |
| 10550-2 | Professional Garbage bags 85 x 110 Black | 10 rolls x 20 pcs |
| 10550-3 | Professional Garbage bags 85 x 110 Blue | 10 rolls x 20 pcs |
| 10548 | Professional Garbage bags 95 x 115 | 10 rolls x 15 pcs |
| 10580 | Professional Garbage bags ΕXTRA 80 x 110 Black | 18 rolls x 10 pcs |